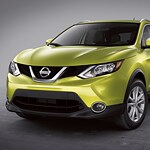 You don't have to compromise when it comes to small SUVs and performance. The Nissan Rogue is the small and affordable SUV that offers you top performance at an affordable price. Here's what you will find on the current model Rogue.
In a small SUV, the right powertrain is important. That's why the Nissan Rogue comes with a 2.5-liter engine that features the Continuously Variable Valve Timing Control System (CVTCS). This powertrain not only delivers up to 170 horsepower, but you also give you a highway fuel economy rating of 29 miles per gallon.
Along with top performance, you want to make sure you have excellent control. That's where the available Intelligent AWD system comes in. This advanced all-wheel-drive system can actually react to road conditions ahead of it almost instantly. This will come in handy when you are driving in adverse weather conditions such as rain, sleet or snow.