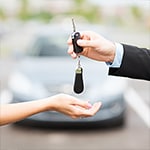 Used car buying is becoming more and more popular as the years roll on. As such, it is important to know what to look for when buying used to get the best purchase for your hard-earned money.
When buying a used car, be sure to do your research, both on the vehicle you want and the dealership you want to purchase from. Once you've picked a trustworthy dealer, go in for a visit. Be sure to look the used vehicle over, and take it out for a test drive. Don't be timid or overly concerned that you are asking too many questions. Be assertive, and make it known what you are looking for so you can walk away knowing that you've invested in a vehicle that is worthwhile.
All in all, it is best to use your best judgement and common sense when shopping for a used vehicle. Always look the car over and ask questions when you aren't sure or are concerned about something to ensure you are leaving the lot with something you'll love.